Placing bulk orders is really simple in the Tillo Hub.
Below is a step by step visual guide to the process.


Step 1: Navigate from Dashboard to Buy gift cards.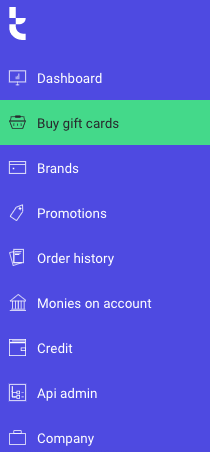 You can add brands if you wish with the 'Add Brands' button.
Please note you can still use the other bulk order system with CSV by clicking on the link 'Upload a spreadsheet (CSV).
Step 2: Select the brand you wish to purchase cards for.
Step 3: Select a value and quantity.
If the brand has fixed denominations then you will have to pick a value from the drop down menu and add how many cards you would to purchase. Then click 'Add To Order'.
If the brand has no fixed denominations then fill in the value you would like and add how many you would like to purchase of that value. Then click 'Add To Order'.
When you click on 'Add To Order' you will see a new row to add more brands.
You can also amend the previous row by clicking the wrench or deleting the row by clicking the circle.
If you are using a CSV file you can edit the contents of your CSV by clicking edit.
You can click on the wrench to amend your row or add a another brand in the row below.
When you are ready with your order click 'Review Order'.
Step 4: Select the delivery method and sector.
You will see a row for every brand you have added.
The sector is an indicator for the brand what these codes would be distributed to.
You can also add a reference if you wish.
Once you are ready click on 'Proceed to Payment'.
Step 5: Payment choice
Here you can choose how to pay, either your Monies on account float or by Invoice (Note: If you have direct relationships with a brand then you will only see this option).
If you choose Monies on account, assuming you have enough funds your order will start processing immediately.
If you choose "Pay by Invoice" you will get sent a proforma invoice to pay and your order will not start processing until Payment has been received and approved.
Step 6: You will see your order in Your Orders tab.
Please note the progress bar on the right side of the page.
You can also expand the row for more information.
Step 6: Once your order is complete you will receive an email
Step 7: Follow the link or navigate to the Your Orders tab in the Buy Gift Cards menu.
Your order will be in the Completed Order section where you can download your codes.